How-To Guide for Harmonic Mixing
Mixing harmonically enables you to create smooth transitions between songs and ensure that your vocals, melodies, and basslines sound great together.
Harmonic mixing opens a new realm of creativity. You can create unusual mash-ups (The Beatles vs. Jay-Z), or just enjoy flawless mixing with the latest tracks from your favorite producers.
To use harmonic mixing, you need to know the key of every song you play. Mixed In Key software scans your entire music collection and displays key results in our easy-to-use Camelot notation (ex: 4A, 6B).
Use the Camelot Easymix Wheel
The Camelot notation makes harmonic mixing easy. Here is a picture of the Camelot Easymix Wheel: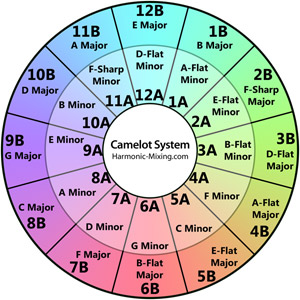 On this wheel, musical keys can be seen as "hours" on a clock. For example, 4 o'clock corresponds to 4B or 4A. The letter "B" represents Major keys. The letter "A" represents Minor keys.


Improve Your DJing
To use harmonic mixing in your DJ sets, you can change keys with every mix by moving around the Camelot wheel one step at a time. Mix between songs by subtracting one hour (-1), adding one hour (+1), or staying in the same hour as your last song. So if you're playing a song tagged 4A, your next track can be 3A, 4A or 5A.
For a special effect, you can mix between the inner circle and outer circle. For example, mix from 4A to 4B.
That's all it takes to start harmonic mixing – just scan your files with Mixed In Key and choose songs that are adjacent to each other on the Camelot wheel. Harmonic mixing works for all music genres because it is based on music theory.
Example mix
For your first harmonic mix, find two songs that have the same key code. Mix them together using your favorite DJ software or hardware and you'll hear a smooth transition every time. From there, you can experiment with other harmonic transitions.
We recommend going clock-wise or counter-clockwise around the wheel, changing key every couple of songs. For example, we may play: 10A > 10A > 10B > 9B > 8B > 8A > 7A > 6A for a 100% harmonic DJ set. It never gets boring because there is a music progression happening during the entire mix.
Here's an example of 32 songs mixed in 5 minutes. This is done using the Mixed In Key technique:
Summary
Use Mixed In Key 7.0 to analyze your music. Follow the Camelot Wheel to pick compatible tracks. Mix them on your favorite DJ equipment and software. Result: Harmonic Mixing.
What DJs are saying
Magazine Quotes
DJ Mag: "Best DJ Tool of the year"

DJ Times: "In Action: I was a bit skeptical when I imported my first track into Mixed In Key -- but sure enough, it calculated the correct key. Conclusion: Mixed In Key is extremely useful software."